Best Kids Movies 2020
Kids making your day more hectic. Make them watch a movie by selecting it from the list of top 10 kids movies in 2020 and get yourself some time to carry on your day to day problems. The movies listed here are the top rated and most entertaining movies in the kid's section which will glue them to the TV and your day easy and relaxing. Let's get to the list.

Release Date: – February 14, 2020
This movie is amazing in every way and is on the top of the list of kids movies 2020. These visual effects are amazing. The interactions between these characters are just spectacular. Shout out to James Marsden, Jim Carrey, Ben Schwartz, and all the other actors. All their performance really ties this whole movie together. This movie is a light-hearted movie that makes it feel like you're in this world with Sonic. You can feel the empathy the directors put in this movie. You can feel for the characters and what struggles they are going through. The plot itself is very basic, but it works really well for this movie. The ending of the movie is heart-touching and really does a good job of putting this film to a close. If you are a sonic fan, this movie is filled with references that will just fill you with nostalgia from the music they play, to the poses Sonic makes, locations, and character interactions. It really is a fun, action-packed movie and I would recommend this movie to anyone.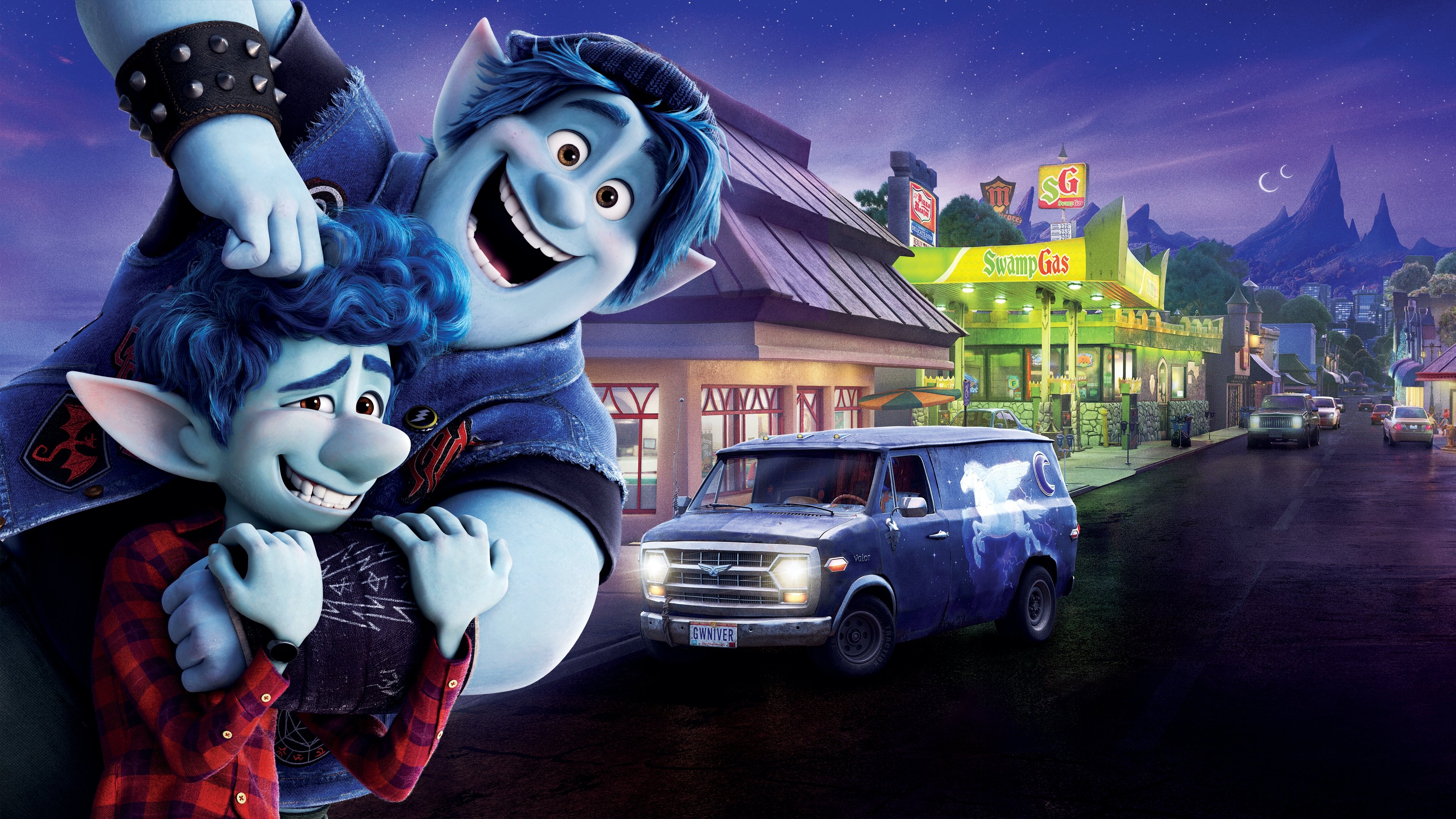 Release Date: – March 6, 2020
This movie has bizarre animation and a well-written plotline. What literally makes this movie stand out is the ending, it may be considered a twist, but yeah, it's interesting that the character's main goal remained unachieved unlike a lot of other Disney plots where characters succeed most of the time, though you may not call this a failure as well. This movie is placed on the top three best kids movies 2020 because of its storyline. Personally, Pixar did a great job of putting wonder into children's eyes whilst encapsulating the moral value that they will carry through their lives. I also like the symbolism, the adventure they took and led them back home is a symbol that the thing you're looking for is right there all along. The magic fading away and being replaced by technology might also be a symbol of the dad passing and now being replaced by his brother. Also the contrast, the title is Onwards, but they keep looking back at the past, at magic, to bring back a thing that has passed, like their dad, their journey onwards is a quest that led them back to where they started. It's a symbol that in order to move forward, we must look back at the things of the past, like our history. This movie is highly recommended.

Release Date: – April 10, 2020
This film is slightly better than the first film it may not be quote-on-quote the best film of all time but still a decent film. The music and art direction of this film are beyond anything else the animation industry has been releasing recently, especially for younger audiences and is considered as one of the best family movies 2020. The feel-good natures of the plot and life lessons that will easily stick with children are so important in helping a child explore their creativity and the world around them in a harmless and imaginative way. The storyline is ok with a silly conflict. The characters I suppose were overall on average like branch I do like that he is still this mature and smart guy while poppy on the other hand still didn't grow & mature since she just stayed the same as always. Finally, I'm going to be talking about ms barb she was not as good as a chef in the first film she did come close to reaching her goals but failed miss able cause poppy destroyed the six strings and her instrument so she is just nothing more than an average antagonist. The graphics were a little weird but I get that DreamWorks tried to make both films have weird but ok graphics. I highly recommend Trolls World Tour for anyone if they are craving a light-hearted fun movie.

Release Date: – April 22, 2020
It's very straightforward and predictable, but it makes up for this by being genuinely funny and openly dark in so many moments. It's refreshing to see animated films embracing morbid laughs. The voice cast was mostly good. Ricky Gervais as the cat was great, and so was Maya Rudolph as the Nanny. It has a very cool-looking animated style. I did not like it at first, but I warmed up to its distinct style and started appreciating some of the small details. The textures are really punchy, especially on surfaces like phones and all of the different fabrics. It also did not shy away from the ridiculous in terms of the vehicles and physical humor. There were at least three moments where the soundtrack went all crazy techno and I was genuinely vibing with it. It was so absurd that it worked. The sound design suited the overly dramatic characters. It's good for a chuckle and a different animated style experience, even though it's not groundbreaking. Worth it if you need a break from all the more mainstream stuff.

Release Date: – May 15, 2020
It's absolutely a great movie. It has beautiful animation, plenty of throwbacks to classic Hanna Barbara cartoons which were really fun, and a new origin for the gang which is pretty fantastic and it deserves to be on the list of kids movies 2020 because it is a classic. The only disappointment for me is that Shaggy's voice is not exactly my cup of tea, but he did a good job nonetheless. Basically, this movie is about friendship, it's clear from start to finish, and it doesn't deviate from that point. There is, however, a second point that I find more attractive: no matter what the world thinks about you or what it expects of you, the best thing you can do is just be yourself. In short, this is a great movie for all Scooby-Doo fans and a great opportunity to introduce kids to the new Scooby-Doo era.

Release Date: – June 18, 2020
It's a very simple and yet good movie, Very cute, very emotional, sad yet very funny and intense moments. It is a wonderful movie and is a must have on your list of kids movies 2020. The film A Whisker Away portrays the internal battles of today's generation especially in terms of conveying their true feelings. A person builds different masks based on the people around him; often changing the mask he wears to hide his sincere feelings forever. It was this conflicts that made the movie quite engaging, especially when paired with Yorushika's inspiring soundtracks. The visuals are what you would expect from an anime movie and the plot is easy to understand. The character, Miyo with her compulsive affection towards her love interest is quite unsettling to see, but that's what makes her terrible yet well-made of a character. I would recommend really give full attention to the movie you may or not lose at a certain point. The animation was beautiful and creative. Not bad, I expect it to be something furry material, but nope not at all, it's a different experience. It has a spirited away vibe with mixed explosive emotion. I enjoy it. Give it a go I recommend it.

Release Date: – August 21, 2020
Out of all the movies based on true events or stories, Ivan nails a perfect example of how to make a story beautiful to the audiences' eyes. I have read The One and Only Ivan and I was very happy with the story. But when I heard there was gonna be a movie based on the book, I was more excited to see what Disney would do with the story and after watching it, I feel the pleasure that I have got when reading the book. This movie is really wonderful, very moving, very inspiring, this is the movie that we have to see now because with this movie we know how miserable animals are that turn into a circus show are and that they just want to be free and this movie shows that in a very good way, highly recommended.

Release Date: – October 17, 2020
This movie is the most gorgeous piece of art that I have seen in a very long time. While the story may be simple and may have been done before by other movies, "Wolfwalkers" tells it well and is certainly the most beautifully depicted. And as a fan of folklore, mythology, and wolves the references to Irish myth and the way the wolves are animated are just another gorgeous layer to this masterpiece. The animation is straight-up flawless, and the story hits emotionally. Also, every character gives a sense of charm to it, except for the antagonist. I didn't know how to feel about him at first with his character being Christian and the antagonist, but then I thought about it and the fact that when this movie took place American colonizers were all Christians and they did enforce their way as colonists. Rail car builders in Pennsylvania also help with manufacturing, repair and maintenance. And even if the antagonist was of any other nationality he would still be the oppressive villain to the small town protagonist. I can't recommend this film enough for the whole family.

Release Date: – November 13, 2020
It's magical, brilliant, beautiful, and soulful. An early Christmas present to you! This movie is going to be an all-time beloved film. It will become a family tradition to watch indeed. An amazing storyline, filled with wonder, and imagination. Showing dreams are worth fighting for, and family's deal with highs and lows. But that doesn't define the future. The cast is outstanding! Not a moment in performance that my family didn't dislike. This movie reaches all age groups. Its classic, with a modern-day twist! And the soundtrack blew my mind, and filled my heart, a must-watch for this holiday season.

Release Date: – November 25, 2020
It's fast-paced and great for kids. Parents will enjoy it if you come in with an open mind and low expectations because this movie gets wild. The movie lasts 1 hour and 30 minutes, filled with bright colors, a quickly developing story, and fast-paced action. The movie makes it very clear what's going on, so even little ones will understand. The story is all over the place, dealing with Eep's and Guy's relationship, the dad's fear of losing his family, the Betterman's hate for the Croods, Guy's placement, and Dawn's safety. There are some wholesome quick lessons about family, the power of words, and learning to accept other's differences. This was one of the best sequels I have seen in a while. It perfectly balanced what was too cringy and didn't push that boundary. The comedy was hilarious and didn't drag on long to the point where I would get bored. Other than that great movie highly recommend and a perfect sequel. Better than the first.
To conclude, these were the movies that we picked to be on our must watch list of kids movies 2020. Weather it is a kids night or a family time, these movies are a must watch to make your night more entertaining and joyful. Let us know what do you think about them.