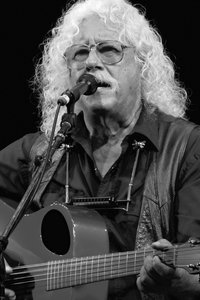 Birth Day: 1947-07-10
Place of birth: Coney Island, New York, U.S.
​From Wikipedia, the free encyclopedia.   Arlo Davy Guthrie (born July 10, 1947) is an American folk singer. Like his father, Woody Guthrie, Arlo often sings songs of protest against social injustice. One of Guthrie's better-known works is "Alice's Restaurant Massacree", a satirical talking blues song of about 18 minutes in length. Description above from the Wikipedia article  Arlo Davy Guthrie, licensed under CC-BY-SA, full list of contributors on Wikipedia.