Very Bad Things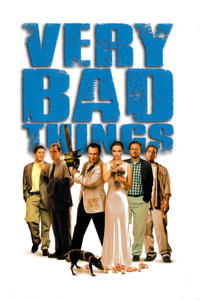 Kyle Fisher has one last night to celebrate life as a single man before marrying Laura, so he sets out to Vegas with four of his best buddies. But a drug and alcohol filled night on the town with a stripper who goes all the way, turns into a cold night in the desert with shovels when the stripper goes all the way into a body bag after dying in their bathroom. And that's just the first of the bodies to pile up before Kyle can walk down the aisle...
Average Score : 63.04
They've been bad. Very bad.
Status: Released
Release Date: 1998-09-11
Production Companies VBT Productions Initial Entertainment Group Interscope Communications Ballpark Productions Partnership PolyGram Filmed Entertainment
Production Countries United States of America,
Run time: 100 minutes
Budget: $30,000,000
Revenue: $9,898,412