102 Dalmatians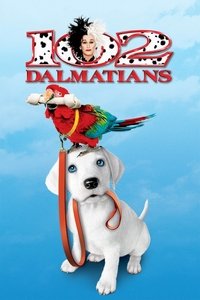 Get ready for a howling good time as an all new assortment of irresistible animal heroes are unleashed in this great family tail! In an unlikely alliance, the outrageous Waddlesworth - a parrot who thinks he's a Rottweiler - teams up with Oddball - an un-marked Dalmatian puppy eager to earn her spots! Together they embark on a laugh-packed quest to outwit the ever-scheming Cruella De Vil.
Average Score : 54.68
Meet Two Unlikely Heroes With A Bone To Pick.
Status: Released
Release Date: 2000-11-21
Production Companies Walt Disney Pictures Cruella Productions Kanzaman S.A.M.
Production Countries United States of America,
Run time: 100 minutes
Budget: $85,000,000
Revenue: $183,611,771