The Favour, the Watch and the Very Big Fish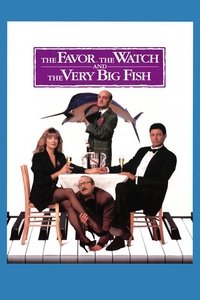 A farce, Hoskins plays a photographer who specializes in religious pictures who searches for a model for Jesus. He does a favor for a friend and finds himself doing a voice track for a porno movie with Natasha Richardson. Hoskins finds his model for Jesus in Jeff Goldblum and a romantic triangle begins in which Goldblum finds adoring crowds believing him to be Jesus and then begins to believe it himself.
Average Score : 61.92
The catch of the day is fresh comedy.
Status: Released
Release Date: 1991-05-01
Production Companies Fildebroc Les Films Ariane Sovereign Pictures Umbrella
Production Countries United Kingdom,France,United States of America,
Run time: 89 minutes
Budget: --
Revenue: --