Two Mules for Sister Sara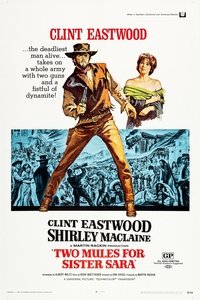 Hogan, on his way to do some reconnaissance for a future mission to capture a French fort, encounters Sister Sara, a nun in trouble. Before he knows it, Hogan is accompanying Sister Sara in the dangerous frontier while she seeks to achieve a hidden goal.
Average Score : 70
CLINT EASTWOOD...the deadliest man alive...takes on a whole army with two guns and a fistful of dynamite!
Status: Released
Release Date: 1970-06-14
Geners Western
Production Companies Sanen Productions Malpaso Productions Universal Pictures
Production Countries Mexico,United States of America,
Run time: 114 minutes
Budget: --
Revenue: $5,050,000