Three Days of the Condor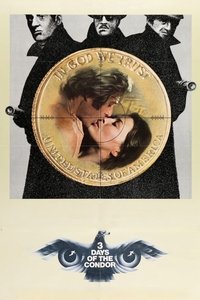 A bookish CIA researcher finds all his co-workers dead, and must outwit those responsible until he figures out who he can really trust.
Average Score : 73.12
His CIA code name is Condor. In the next seventy-two hours almost everyone he trusts will try to kill him.
Status: Released
Release Date: 1975-09-24
Geners Thriller Mystery Adventure
Production Companies Paramount Wildwood Enterprises Dino De Laurentiis Company Tom Ward Enterprises
Production Countries United States of America,
Run time: 117 minutes
Budget: $7,800,000
Revenue: $41,509,797