The Santa Clause 3: The Escape Clause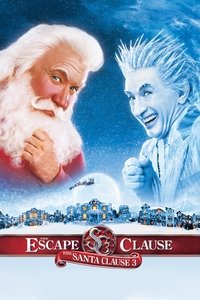 Now that Santa and Mrs. Claus have the North Pole running smoothly, the Counsel of Legendary Figures has called an emergency meeting on Christmas Eve! The evil Jack Frost has been making trouble, looking to take over the holiday! So he launches a plan to sabotage the toy factory and compel Scott to invoke the little-known Escape Clause and wish he'd never become Santa.
Average Score : 54.97
'Twas the Fight Before Christmas...
Status: Released
Release Date: 2006-11-02
Geners Comedy Family Adventure
Production Companies Walt Disney Pictures Outlaw Productions Boxing Cat Films Santa Frost Productions
Production Countries United States of America,
Run time: 91 minutes
Budget: $12,000,000
Revenue: $84,500,122