Cutthroat Island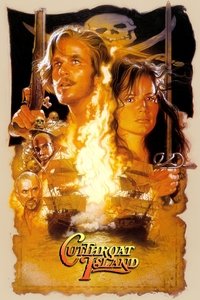 Morgan Adams and her slave, William Shaw, are on a quest to recover the three portions of a treasure map. Unfortunately, the final portion is held by her murderous uncle, Dawg. Her crew is skeptical of her leadership abilities, so she must complete her quest before they mutiny against her. This is made yet more difficult by the efforts of the British crown to end her pirate raids.
Average Score : 57.75
The Course Has Been Set. There Is No Turning Back. Prepare Your Weapons. Summon Your Courage. Discover the Adventure of a Lifetime!
Status: Released
Release Date: 1995-12-22
Production Companies Metro-Goldwyn-Mayer Le Studio Canal+ Carolco Pictures Laurence Mark Productions Guild Forge RCS Video Beckner/Gorman Productions Cutthroat Productions Tele-Communications Inc.
Production Countries France,Germany,Italy,United States of America,
Run time: 124 minutes
Budget: $98,000,000
Revenue: $10,017,322