アキラ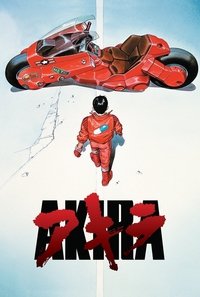 A secret military project endangers Neo-Tokyo when it turns a biker gang member into a rampaging psychic psychopath that only two teenagers and a group of psychics can stop.
Average Score : 79
Neo-Tokyo is about to E.X.P.L.O.D.E.
Status: Released
Release Date: 1988-07-16
Geners Animation Science Fiction Action
Production Companies Akira Committee Company Ltd. Mainichi Broadcasting System (MBS) Sumitomo Corporation Toho Company, Ltd. Studio Fuga Studio Aoi TMS Entertainment Kodansha Bandai Entertainment Inc.
Production Countries Japan,
Run time: 124 minutes
Budget: $10,000,000
Revenue: --