Battle for the Planet of the Apes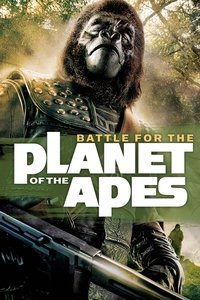 The fifth and final episode in the Planet of the Apes series. After the collapse of human civilization, a community of intelligent apes led by Caesar lives in harmony with a group of humans. Gorilla General Aldo tries to cause an ape civil war and a community of human mutants who live beneath a destroyed city try to conquer those whom they perceive as enemies. All leading to the finale.
Average Score : 57.26
The final chapter in the incredible Apes saga. The most suspenseful showdown ever filmed as two civilizations battle for the right to inherit what's left of the earth!
Status: Released
Release Date: 1973-06-15
Geners Action Science Fiction
Production Companies Apjac International 20th Century Fox
Production Countries United States of America,
Run time: 93 minutes
Budget: $1,700,000
Revenue: $8,844,595