Mr. Holland's Opus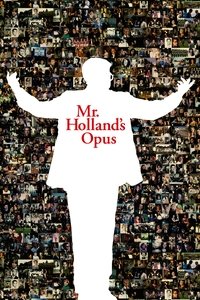 In 1965, passionate musician Glenn Holland takes a day job as a high school music teacher, convinced it's just a small obstacle on the road to his true calling: writing a historic opus. As the decades roll by with the composition unwritten but generations of students inspired through his teaching, Holland must redefine his life's purpose.
Average Score : 69.72
Of All the Lives He Changed, the One That Changed the Most Was His Own.
Status: Released
Release Date: 1995-12-29
Production Companies Hollywood Pictures Interscope Communications PolyGram Filmed Entertainment The Charlie Mopic Company
Production Countries United States of America,
Run time: 137 minutes
Budget: $31,000,000
Revenue: $106,269,971