Days of Thunder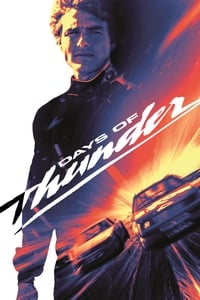 Talented but unproven stock car driver Cole Trickle gets a break and with the guidance of veteran Harry Hogge turns heads on the track. The young hotshot develops a rivalry with a fellow racer that threatens his career when the two smash their cars. But with the help of his doctor, Cole just might overcome his injuries-- and his fear.
Average Score : 63.38
You can't stop the thunder.
Status: Released
Release Date: 1990-06-27
Production Companies Paramount Don Simpson/Jerry Bruckheimer Films
Production Countries United States of America,
Run time: 107 minutes
Budget: $60,000,000
Revenue: $157,920,733