The Adventures of Young Indiana Jones: Demons of Deception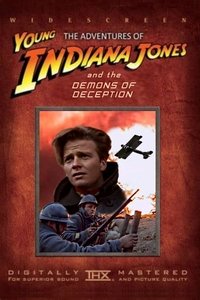 In the ninth film in the series, in September 1916, young Indiana Jones - going by the alias of "Henri Defense" - has become a motorcycle courier stationed near the trenches at Verdun. His friend Remy is still in the trenches, and both grow more disillusioned about the war each day. Chosen to sneak into enemy territory on account of his gift for languages, Indy overhears German officers speaking of the imminent arrival of their most powerful artillery guns, nicknamed "Big Bertha." A month later, Indy and Remy are granted leave to Paris, where Indiana meets the exotic dancer Mata Hari at a dinner party. He falls for her immediately, but soon finds out she is dating other men as well, including the French Minister of War.
Average Score : 57
Status: Released
Release Date: 1999-10-31
Production Companies Amblin Entertainment Lucasfilm Ltd.
Production Countries United States of America,
Run time: 90 minutes
Budget: --
Revenue: --