Maxie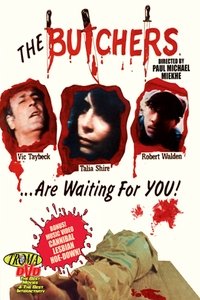 When deaf-mute Maxie (K.T. Baumann) goes to work at the local butcher shop, she senses strange things are afoot. When she discovers the beloved town butcher (Vic Tayback) is getting his choicest cuts from the local morgue, she finds herself tangled in a web of deception, betrayal and bloody murder. Featuring incredible suspense and a chilling twist, The Butchers is a lost cannibal classic in the tradition of Silence of the Lambs and Cannibal! The Musical.
Average Score : 17.5
...and the cannibals are waiting for you!
Status: Released
Release Date: 1973-01-01
Geners Comedy Drama Horror Thriller
Production Companies
Production Countries United States of America,
Run time: 89 minutes
Budget: --
Revenue: --