Knock Knock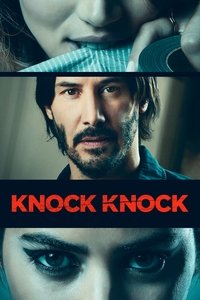 When a devoted husband and father is left home alone for the weekend, two stranded young women unexpectedly knock on his door for help. What starts out as a kind gesture results in a dangerous seduction and a deadly game of cat and mouse.
Average Score : 53.45
One night can cost you everything.
Status: Released
Release Date: 2015-06-26
Geners Thriller
Production Companies Sobras International Pictures UFA Black Bear Pictures Camp Grey Elevated Films Movie Trailer House Rogovin Brothers Dragonfly Entertainment
Production Countries Chile,Germany,Israel,United States of America,
Run time: 99 minutes
Budget: $2,500,000
Revenue: $6,341,684