Underworld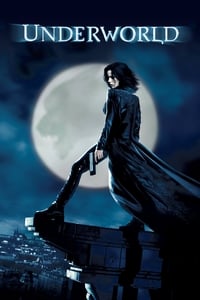 Vampires and werewolves have waged a nocturnal war against each other for centuries. But all bets are off when a female vampire warrior named Selene, who's famous for her strength and werewolf-hunting prowess, becomes smitten with a peace-loving male werewolf, Michael, who wants to end the war.
Average Score : 68.07
An immortal battle for supremacy.
Status: Released
Release Date: 2003-09-19
Geners Fantasy Action Thriller
Production Companies Screen Gems Lakeshore Entertainment Laurinfilm Subterranean Productions LLC Subterranean Productions UK Ltd. Underworld Produktions GmbH
Production Countries Germany,Hungary,United Kingdom,United States of America,
Run time: 122 minutes
Budget: $22,000,000
Revenue: $95,708,457