Un long dimanche de fiançailles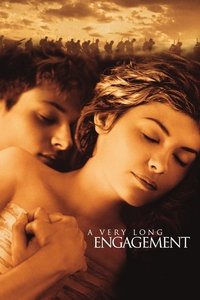 Young Frenchwoman Mathilde searches for the truth about her missing fiancé, lost during World War I, and learns many unexpected things along the way. The love of her life is gone. But she refuses to believe he's gone forever — and she needs to know for sure.
Average Score : 73.28
Never let go.
Status: Released
Release Date: 2004-10-26
Production Companies Gerber Pictures 2003 Productions Tapioca Films La Région Île-de-France Région Bretagne Région Poitou-Charentes Warner Bros. Pictures CNC Canal+ TF1 Films Production Warner Bros. Entertainment France Warner Independent Pictures (WIP)
Production Countries France,United States of America,
Run time: 133 minutes
Budget: $47,000,000
Revenue: --