As Good as It Gets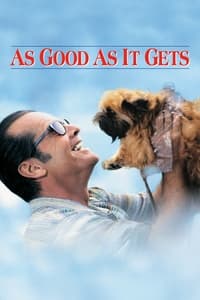 Melvin Udall, a cranky, bigoted, obsessive-compulsive writer of romantic fiction, is rude to everyone he meets, including his gay neighbor, Simon. After Simon is hospitalized, Melvin finds his life turned upside down when he has to look after Simon's dog. In addition, Carol, the only waitress at the local diner who will tolerate him, must leave work to care for her sick son, making it impossible for Melvin to eat breakfast.
Average Score : 73.96
A comedy from the heart that goes for the throat. Brace yourself for Melvin.
Status: Released
Release Date: 1997-12-19
Production Companies Gracie Films TriStar Pictures Sony Pictures
Production Countries United States of America,
Run time: 139 minutes
Budget: $50,000,000
Revenue: $314,178,011