One Night in the Tropics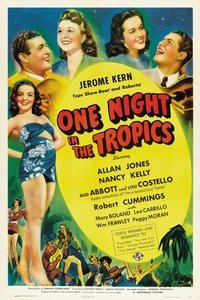 Jim "Lucky" Moore, an insurance salesman, comes up with a novel policy for his friend, Steve: a 'love insurance policy', that will pay out $1-million if Steve does not marry his fiancée, Cynthia. The upcoming marriage is jeopardized by Steve's ex-girlfriend, Mickey, and Cynthia's disapproving Aunt Kitty. The policy is underwritten by a nightclub owner, Roscoe, who sends two enforcers - Abbott and Costello - to ensure that the wedding occurs as planned.
Average Score : 53
Jerome Kern Tops "Show Boat" and "Roberta"
Status: Released
Release Date: 1940-11-15
Production Companies Universal Pictures
Production Countries United States of America,
Run time: 82 minutes
Budget: --
Revenue: --