Dudes & Dragons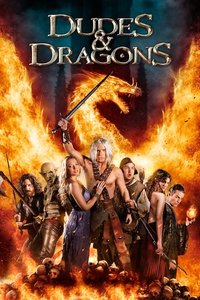 When the powerful wizard, Lord Tensley, is jilted by Princess Ennogard, he vows to rid the land of love. He commands his fire-breathing dragon to destroy any sign of affection seen throughout the kingdom. As the death toll rises, Camilan, a brave but arrogant warrior seeks to marry his true love despite the curse upon the land. In order to fulfill his destiny, he seeks the help of his estranged brother Ramicus, a bounty hunter with no desire to get involved. It takes an enchanted distress message and the promise of great reward from the beautiful Princess Ennogard, to lure Ramicus into the quest to defeat the wizard and his terrible beast.
Average Score : 41.5
Courage. Valor. Booty.
Status: Released
Release Date: 2015-10-10
Geners Fantasy Action Comedy Science Fiction
Production Companies
Production Countries
Run time: 114 minutes
Budget: --
Revenue: --
James Marsters

Kaitlin Doubleday

Luke Perry

Adam Johnson

Maclain Nelson

Clare Niederpruem

Shannon Engemann

Lala Kent

Jake Suazo