劇場版「Fate/stay night [Heaven's Feel]」Ⅲ.spring song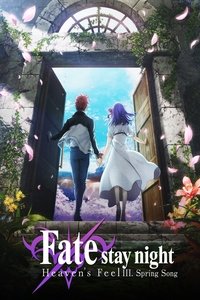 As Sakura drowns in the murky darkness of the sins she has committed, Shirō's vow to protect her at all costs leads him into a raging battle to put an end to the Holy Grail War. Will Shirō's wish reach Sakura even as he challenges fate itself in a desperate battle against the rising tide?
Average Score : 52
We fight to end this fate.
Status: Released
Release Date: 2020-08-15
Geners Animation Romance Fantasy Action Drama
Production Companies ufotable Aniplex
Production Countries Japan,
Run time: 120 minutes
Budget: --
Revenue: $15,540,379