North of the Rockies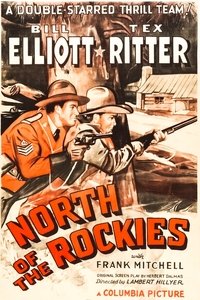 Morgan and his gang are smuggling furs across the border. Both the Mounties on the Canadian side and Tex Martin on the American side are after them. When Morgan sets up Tex to be found with furs, Mountie Bill arrests him. But he lets him go hoping he will lead him to the gang and eventually the two join forces.
Average Score : 0
Two great stars blaze away with guns, songs and thrills!
Status: Released
Release Date: 1942-04-02
Geners Western
Production Companies Columbia Pictures
Production Countries United States of America,
Run time: 60 minutes
Budget: --
Revenue: --
Bill Elliott

Tex Ritter

Frank Mitchell

Shirley Patterson

Larry Parks

John Miljan

Ian MacDonald

Lloyd Bridges

Gertrude Hoffmann

Boyd Irwin