Rockula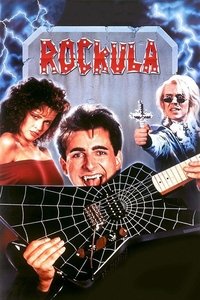 Ralph is a sexually frustrated vampire who suffers from a peculiar curse. He's condemned for eternity to watch his one true love, Mona be murdered by a pirate wielding a ham bone. But now? Now it's 1990, and Ralph is determined to break Mona's cycle of reincarnation. His first order of business is winning her affections-- He does that by starting Rockula: a rock band that's sure to stake a claim on her heart.
Average Score : 50.24
He's a vampire who hasn't scored in 400 years. Tonight's the night!
Status: Released
Release Date: 1990-02-23
Geners Horror Comedy Music Romance
Production Companies Cannon Group Globus-Pierce Productions
Production Countries United States of America,
Run time: 87 minutes
Budget: --
Revenue: --
Dean Cameron

Toni Basil

Thomas Dolby

Tawny Fere

Susan Tyrrell

Bo Diddley

Tony Cox

Rick Zumwalt

Nancye Ferguson

Bill Brochtrup

Adam Shankman

Allan Love