Austin Powers in Goldmember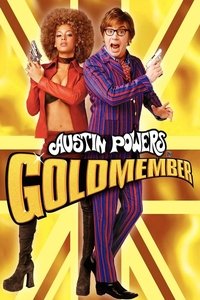 The world's most shagadelic spy continues his fight against Dr. Evil. This time, the diabolical doctor and his clone, Mini-Me, team up with a new foe—'70s kingpin Goldmember. While pursuing the team of villains to stop them from world domination, Austin gets help from his dad and an old girlfriend.
Average Score : 59.92
He's still evil... He's still deadly... and he's still surrounded by frickin' idiots!
Status: Released
Release Date: 2002-07-26
Geners Comedy Crime Science Fiction
Production Companies New Line Cinema Eric's Boy Team Todd Moving Pictures Gratitude International
Production Countries United States of America,
Run time: 93 minutes
Budget: $63,000,000
Revenue: $296,938,801