Superman II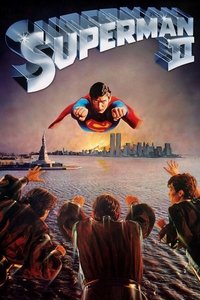 Three escaped criminals from the planet Krypton test the Man of Steel's mettle. Led by General Zod, the Kryptonians take control of the White House and partner with Lex Luthor to destroy Superman and rule the world. But Superman, who attempts to make himself human in order to get closer to Lois, realizes he has a responsibility to save the planet.
Average Score : 67.38
The Man of Steel meets his match!
Status: Released
Release Date: 1980-12-04
Geners Science Fiction Action Adventure
Production Companies Warner Bros. Pictures Dovemead Films Film Export A.G.
Production Countries United Kingdom,United States of America,
Run time: 127 minutes
Budget: $54,000,000
Revenue: $190,458,706