Double Impact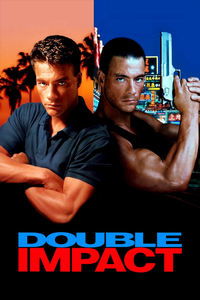 Jean Claude Van Damme plays a dual role as Alex and Chad, twins separated at the death of their parents. Chad is raised by a family retainer in Paris, Alex becomes a petty crook in Hong Kong. Seeing a picture of Alex, Chad rejoins him and convinces him that his rival in Hong Kong is also the man who killed their parents. Alex is suspicious of Chad, especially when it comes to his girlfriend.
Average Score : 60.35
Two brothers separated by the violence. Now together in a mission of revenge.
Status: Released
Release Date: 1991-07-31
Geners Thriller Action Crime Drama
Production Companies Columbia Pictures Stone Group Pictures Vision International
Production Countries United States of America,
Run time: 110 minutes
Budget: $15,000,000
Revenue: $30,102,717