メトロポリス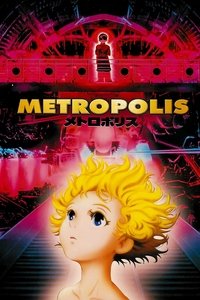 Kenichi and his detective uncle, Shunsaku Ban, leave Japan to visit Metropolis, in search of the criminal, Dr. Laughton. However, when they finally find Dr. Laughton, Kenichi and Shunsaku find themselves seperated and plunged into the middle of a larger conspiracy. While Shunsaku searches for his nephew and explanations, Kenichi tries to protect Tima (a mysterious young girl), from Duke Red and his adopted son Rock, both of whom have very different reasons for wanting to find her.
Average Score : 70
Welcome to Metropolis
Status: Released
Release Date: 2001-05-26
Geners Animation Science Fiction
Production Companies Bandai Visual Destination Films Toho DENTSU Music And Entertainment King Record Co. Sony Pictures Television Studios Studio 4°C Metropolis Project Madhouse Kadokawa Shoten Tezuka Productions Imagica Lab.
Production Countries Japan,
Run time: 108 minutes
Budget: $15,000,000
Revenue: $4,035,192