The Wife Takes a Flyer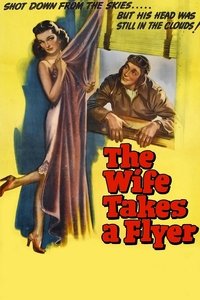 Christopher Reynolds, an American flying with the R.A.F, is shot down over German-occupied Holland and is given shelter by a Dutch family. Posing as the insane husband of the daughter of the house, Anita Wolverman, Reynolds convinces the German officer quartered there, Major Zellfritz, with the necessity for her divorce decree to be granted. After the court-hearing, Anita, goes to manage a home for retired ladies and, persuaded by Reynolds, tries to gain military information from the German Officer. When her former husband escapes from the insane-asylum his exploits are blamed on Reynolds. With the help of the old ladies and Anita, who "remarries" him, Reynolds escapes to England in a stolen German airplane.
Average Score : 45
SHOT DOWN FROM THE SKIES...BUT HIS HEAD WAS STILL IN THE CLOUDS!
Status: Released
Release Date: 1942-04-28
Production Companies Columbia Pictures
Production Countries United States of America,
Run time: 86 minutes
Budget: --
Revenue: --