Advice From a Caterpillar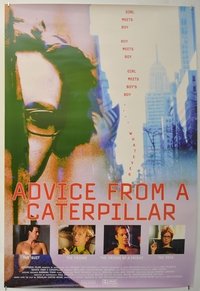 When it comes to romance, Missy's attitude has always been whatever. After all, her artistic career is flourishing...her spacious New York City loft is fabulous...and her relationship with a married man is totally uncomplicated-what more could a modern girl want? But then Missy meets Brat, who's sweet, genuine and shares her fondness for 70's sitcoms. Unfortunately, he's also dating her pal Spaz. When Missy and Brat unexpectedly fall for each other, will she lose her identity...and her best friend? No matter how far you run, true love always finds you.
Average Score : 0
Missy isn't in a love triangle. She's in a love tangle!
Status: Released
Release Date: 1999-02-15
Production Companies
Production Countries
Run time: 90 minutes
Budget: --
Revenue: --