Stormbreaker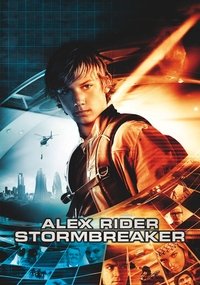 Alex Rider thinks he is a normal school boy, until his uncle is killed. He discovers that his uncle was actually spy on a mission, when he was killed. Alex is recruited by Alan Blunt to continue the mission. He is sent to Cornwall to investigate a new computer system, which Darrius Sayle has created. He plans to give the new computer systems to every school in the country, but Mr. Blunt has other ideas and Alex must find out what it is.
Average Score : 52.28
Rule the school. Save the world.
Status: Released
Release Date: 2006-07-21
Geners Adventure Action Family
Production Companies The Weinstein Company Isle of Man Film Samuelson Productions
Production Countries Germany,United Kingdom,United States of America,
Run time: 93 minutes
Budget: $40,000,000
Revenue: $23,937,870